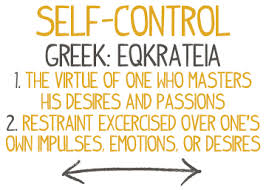 Exercising self-control for the Christian is a battle each time we have to put it to use.   When we need self-control the most, is when it often seems like the hardest thing to do.  It's because something out there is luring something inside of us.  People (Christians) seldom admit or acknowledge that they have a self-control problem.  Remember the last time that person rudely insulted you?  That comment prompted a visceral reaction in you didn't it?  It's hard to think about self-control when smoke is coming out of your ears, but it's something God's grace works to improve in us.
As the image (above) suggests, we need the virtue of 'mastering our passions.'  Mastering our passions does not mean that we never succumb to temptation, but rather that we consistently practice denying our slavish impulses.   The definition of 'self-control' is "restraint exercised over one's own impulses, emotions or desires."  Whew!  That's next to impossible at times.   I think we all know what our personal slavish impulses are (Titus 3:3); in the example above, our slavish passion might be to put that person back in there place with a verbal or physical body slam.   That's never a good reaction.  Left untidy, our slavish passions will run us over like a Mack-truck.  They are the products of the curse, of being sinful creatures, and they exclaim loudly and desperately of our need for Christ deep in our lives.   Generally, a slavish impulse is the excessive abuse of a natural impulse.   For example, God given sex turns into slavish adultery, eating turns into gluttony, drinking wine turns into drunkenness, buying turns into careless-binge-shopping, passion turns into violent rage.     The Apostle Paul evangelized Felix about self-control, appealing to him of a known weakness (Acts 24:25); and it's an uncomfortable topic for us all because it's a common weakness.
What's interesting about temptation is the we humans have the amazing capacity to 'excuse' or 'blame' temptation on outside factors.   In James 1:13, we often blame it on God, or as the comedian Flip Wilson used to quip, we lamly "blame it on the devil."   Often today, Christian men bemoan the promiscuous dress of women (perhaps deservedly so) but James 1:14, reminds us that such a temptation was aroused by "our own desire." During late winter months when I'm preparing the gardens for the Spring, I'm surprised to see all of the underground larvae and 'grub' life of beetles and other forming insects.   You'd never know how much bug life is developing invisibly beneath the earth.  But when the warm Spring comes, those bugs  come out of the ground.   That's the way it is with our sinful desires.  They are buried.  However, THEY EXIST UNSEEN AND OFTEN EVEN BEFORE TEMPTATION ARISES, they are simply buried until the warm season will tempt to sprout them.  Knowing this much should help us renounce our arrogance and lean upon Christ.    This is why the Apostle Paul says,"Therefore let anyone who thinks that he stands take heed lest he fall" 1 Cor. 10:12-13.
When temptation arises, 'resist the temptation' to think we can blame it all on any 'medium' or the 'device' that allures (e.g – a commercial,  a person, a social event, a movie).  Begin lamenting and understanding, "it's primarily you" to blame!   As the Prophet Nathan told David, "You are the man!"  God will deal with the medium and the device that offends for sure, but the more humble soul, will realize that there would be "no temptation" to be had, if there we no "evil desire" present.  One of the most amazing gifts given to believers is that we possess the ability to 'resist' those stubborn and sinful impulses (Matt. 6:13; Matt. 26:41; James 4:1-7).  If you as a Christian have practiced even a little resistance through the Spirit, then you can learn to practice a lot of resistance, and so become a man or woman of 'self control' (2 Peter 1:7).
Grace be with you in Christ,
Social Share