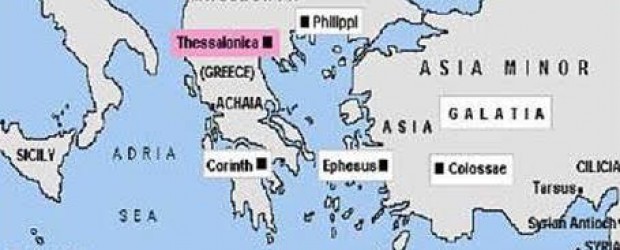 1Th 1:1 Paul, Silvanus, and Timothy, To the church of the Thessalonians in God the Father and the Lord Jesus Christ: Grace to you and peace.
1Th 1:2 We give thanks to God always for all of you, constantly mentioning you in our prayers,
1Th 1:3 remembering before our God and Father your work of faith and labor of love and steadfastness of hope in our Lord Jesus Christ.
Writers effected by Grace: Paul (who doesn't start mentioning his apostleship, size of church, personal problems, etc), Silvanus (or Silas, "a chief man among the brethren" Acts 15:22), and Timothy (a young man of excellent reputation -Acts 16:2) are the writers of this epistle. What a wonderful triplet of "God-consumed, God-dependent, congregationally esteemed men" to encourage a church. They start by mentioning God three times, and Jesus Christ twice in the first three verses. Would you start your letter, blog or FB posts with those mentions? The theme of I Thessalonians is "sustaining holiness in the midst of tribulation." This is possible because grace and peace (v. 1) are "to you." Meditate on that for a minute. Grace and peace cover these men like a flood, and grace and peace aren't cheap, like loose change in your vehicles ash-tray, or spam email – regularly passing by our face with no consideration for them. "Grace and peace to you" cost the Son of God his life and our sins being cursed upon him. It doesn't come to everyone but to the elect of God (v. 4)…so we boast not! An aside…we should be reluctant to say, "I don't know how I'm going to get through this ___________" without allowing that God's grace and peace can provide for any occasion. Also, God's grace doesn't just forgive sins, it fashions right-living (holiness). It always does this. Most people today are fearful of the word "holiness." We can sympathize…we see ourselves or others failed attempts at over-strict, mechanical, or graceless efforts to look holy, without actually being holy. Do Paul, Silas and Timothy appear to be mechanical, robotic or contrived in their aims at holiness? It appears not! May I say they have a natural fascination for the unmerited favor and unmerited power (v.4) of the Redeemer. These men exalt grace, say little of self (v.1), are thankfully excited for the local church (v.2), regularly intercede for their church, keep them in mind and positively reinforce their growth in Christ (v. 2 & 3). What about you? I like it when people remind me of the positive things that God's grace does in my life, and how I've been a blessing to them. It fuel for steadfastness, plus we generally respond better to positive rather than negative reinforcement.
Hearers effected by Grace: Most scholars believe this was written to a new church with a new leadership in place (v. 5-10). If this is a newer church with "green" believers isn't it truly a work of grace, that they've already shown a full-fledged authentic faith? We should come to expect this when God saves sinners, rather than forgetting that God is capable of raising the dead. We should resist the urge to believe new Christians must grow slow, or to excuse sinful living with inexperience in the faith. Certain attributes show right away..others do die slowly. Paul remembered three things that soared in the Thessalonians spiritual character 1) a work of faith 2) a labor of love 3) and a patient hope. Sure they were not perfect, particularly in the areas of sexual purity, sobriety, charity, and even in submission to authority (see chapters 4 & 5); some needed improvement therefore counsel. But generally in the areas of faith, love and hope, they oozed in those alien virtues, and weaned the fading vices. Notice too in verse 3, they didn't work towards faith, (that's impossible with men), rather, their faith produced works! Also, they had an energetic labor; motivated because of their of love for Christ. Love for Christ will do a lot of labor in the church! What will an absence of love do? We must guard against dispassionate laziness in the church! Finally, their tribulation which began the day they heard the gospel (Acts 17:1-9), was wrapped in patience. Their hope in Christ could not be broken even when an entire city was hostile to the gospel. Patience in hope says, "Christ is worth the wait, it's worth the anguish." Note: even non-Christians will work, labor and be steadfast to some level. Most work for self-advancement, most labor with a heart full of spite, envy or hate; most are steadfast only in things they can see. The Holy Spirit wills us to work, labor and be patient because of what Wesley calls "The Triumph of his Grace" as he did to the Thessalonians. Are we listening to Him? If so sing…
O for a thousand tongues to sing
My dear Redeemer's praise!
The glories of my God and King,
The triumphs of His grace.