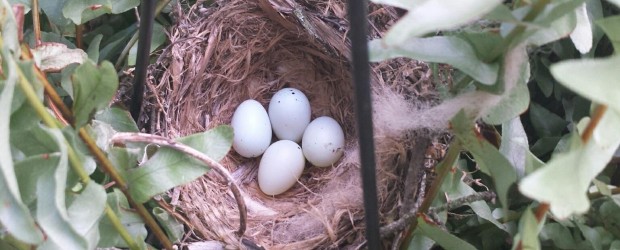 Birds are interesting creatures.  I suppose they are so ordinary we take them for granted.   Thousands of them hover speedily around us, and leave annoying white traces of their presence on our property.  And who would think they are so intelligent, until my wife recently noticed in our thick hanging fern basket a perfectly uniform masterpiece – a nest with four small symmetrical eggs!  It looks almost painted, but indeed it is genuine.
This kind of uniformity always makes me think about the Divine creator.  There must be a source with "Sovereign hands" involved in this.  If we think about it, it is quite amazing that a perfectly round nest, dense enough without being overweight, and small enough to be hidden in the dense fern to protect it from predators.   This owns itself to a Perfect Designer and to the Glory of God more than to the glory of the birds.   I'm reminded of this verse:
Consider the ravens: they neither sow nor reap, they have neither storehouse nor barn, and yet God feeds them. Of how much more value are you than the birds! Luke 12:24 (ESV)
Everything that a bird does, it would seem from this verse is cared for by God.  Ultimately 'feeding' them is the primary highlight here.  Besides creating the birds according to His infinite skill; God is also actively planning their meals ahead of time, yet for all we notice they appear to be frenetically planning and working for food and shelter themselves!  Birds are the consummate strategists, and yet they are fully dependent upon Jesus.   This nest is a reminder to me that a bird's uniformly engineered nest is a reflection of God's sustaining power and grace.   It's a sermon to me that God can use the most insignificant of things to make his glory and will known.   I'm reminded here about of how often God preaches to us of himself when we see order and uniformity in the natural world.   Uniformity is needed in our lives, in our homes, in our churches, in our definitions of what constitutes 'goodness' to a broken and un-uniform world.   Finally, it is said about Jesus Christ, "All things were created by Him, and without Him, nothing was created that was made. (John 1:3)"   Certainly Jesus, is the beginning, the middle, and the end of all such uniformity.
Social Share