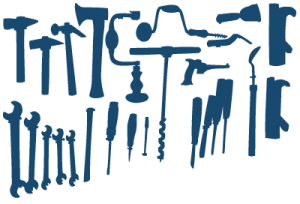 I was disappointed to hear recently that someone suddenly decided after visiting a church they admired for several weeks, to start looking elsewhere; quipping "we just didn't have peace because they didn't have enough for our children."
I'm not here to doubt the truth of that assertion, but I am very concerned that comments like that are indicative of a cultural norm where today churches offer hotel-like amenities to seekers, and the seekers pursue the amenities!   Fundamentally, it's a problem when seekers assume that the church is some grandiose enterprise responsible for fulfilling all of my personal needs; friendship, compatibility, laughter, tolerance, a cool brand of music, timeliness, just the right kind of small group, children's ministry, single's ministry, youth group, choir, liturgy, dynamic preaching, privacy nursing viewing areas, a coffee bar, a warm layout, a Saturday men's breakfast, a softball league, etc.  Have you stopped and taken inventory about what really brings you to your church?  I'm afraid our first answer usually starts like this, "Well, our church has…" and you can fill in the blank.  The truth is, we are too often attracted to something that the church has for us as opposed to being eager about what we may bring to the church.  Have we forgotten about the sacrifice, charity and selflessness that Jesus' cross exemplifies for his body – the church?   So many Christians are looking at church as an a-la-carte basket of provisions, as if it 'owes' us something before we would ever consider giving something to it.  So with this model we actually bring nothing meaningful to church weekly except self-seeking assumptions.
But the scripture has other assumptions about what we must bring to church.

1 Corinthians 14:26 What is it then, brothers? When you come together, each one of you has a psalm, has a teaching, has a revelation, has another language, has an interpretation. Let all things be done to build each other up.
Aha!  Paul could have also said it thus, "But rather when you come together, let your mind be concerned about how to build each other up in all things."
The church in Corinth was high energy, the Holy Spirit had bestowed many dynamic gifts such as teaching, prophecy, miracles and tongues.   However, they became excessive with each person wanting to share something from the Lord.  And Paul is saying 'halt!' the motive of meeting together and 'sharing truth' ought to be for the building up of each other.  As we would build a new house.  As we would feed our children a hearty diet to watch them grow strong and healthy; so is it the responsibility of every Christian to one-another.  I'll go so far as to say that the mindset of evaluating the church to see what it will 'give me' is counter-intuitive to the edification mindset commanded in 14:26.  If you are coming to church without this mindset of building up others Sunday morning, then by nature you are bringing a consumer mindset to church.   If you are expecting the church to give you more, without this same expectation of you giving more to the church, then you are a mooch.  This is neither the mind of Christ, or the moving of the Spirit.  The gifts of the Spirt are for the profit of others in the body (1 Cor. 12:7).  Believer, bring your spiritual tools with you to work on building the brethren up.
So, we need to rethink our reasons for coming to church, and for joining churches.  I need to be thinking about what I am bringing to the church in terms of Gods spiritual gifts given freely to me to give earnestly to the church for helping it grow and be built up.  Press on with grace in Christ.
Social Share